We make your property safer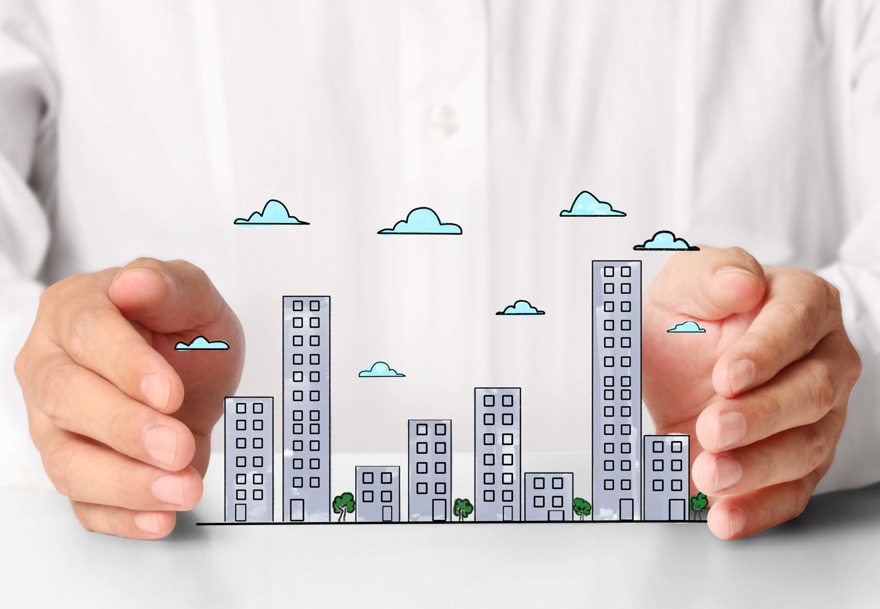 VAKA is our access control system based on a modern platform providing you with one of the markets easiest system to install, deploy and manage. Thanks to the latest technology you get started quickly and you only need a few components for a complete solution.

So easy for the end-users!
The proxy readers are very easy and intuitive to use, where the end user gets voice-guided instructions as well as text message in the display on how to pass a door, change the codes or how to turn on or off an alarm system. So simple that no manuals are needed. See films...

All-In-One...
With the VAKA proxy readers you can get all the features in one single device – you get a complete access control system, a code lock, a phone-entry terminal, an alarm controller device, voice-guided instructions, individual adjustment of door opening times, etc.
Due to the unique construction of the door central unit you can easily add additional features with plug-ins for a phone entry system (IP-based), radio readers for remote opening, audio module for external speakers (used for alarm announcement) and extra relays for elevator control, lighting, etc.
VAKA - access control system – was launched on the Swedish market in 2012 and has an installed base of more than 10.000 doors. VAKA will be available for the European market in 2016.

VAKA has a unique system construction with a wide range of innovative functions. With VAKA you don't need any separate server or licenses to deploy the system since everything is built-in and available in the door controller unit. The installation and the setup to a fully operating system is therefore easy and quick.
Voice-guided instructions from a built-in speaker helps you to enter a door or change PIN-code. You will also get the instructions in a text display.
Turning on and off the burglar alarm gets very simple. The voice-guide gives you clear instructions how you do it.
All-in-one. In one proxy reader you will get an access control system, a code lock and a phone entry system.
Adapted for each user. You can easily set the opening time and the control of automatic doors to be adapted for each individual.
VAKA Call - the phone entry system - lets you to choose whether you want to be called to your fixed line telephone, mobile phone or your portable Gigaset phone.
The Web Client – makes it very easy to administer the system, add or delete users, assign permissions, etc.
Tags instead of keys. No more problems of having to replace locks if someone loses their keys. When a user drops a tag you easily block or remove the tag from the system and assign the user a new one with a few keystrokes. Both cost and time saving.
Keep track on who and when someone has had access to common locations.
Easy to install. No need for separate servers, licenses or software. Everything is built-in the VAKA door controllers so that you can get started quickly. If you install several doors, you only need to setup the first door controller, the other controllers will automatically retrieve all settings.
Few components are needed for a complete system, minimizing mistakes and easy to calculate quotations.
Remote Support. Connect the VAKA system to the Internet for remote support and automatic software updates.
PoE - Power supply with backup over the network according to IEEE 802.3at standard. This means that the door environment, including electric locking, will be supplied with power through Ethernet cables.
Additional features are installed with plug-in modules. You will automatically get the new features presented in the Web administrator client.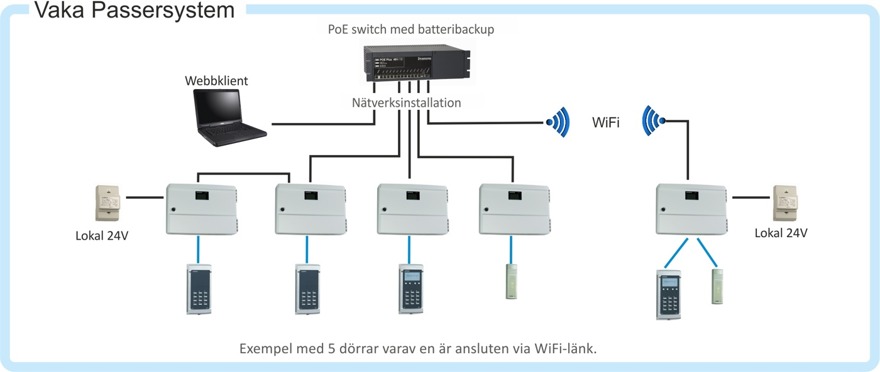 The system is designed for small and medium-sized installations with up to 10 doors (20 proxy readers).
Database for 1000 users. Can be extended to 4000 users with the plug-in module C30.
20 time schedules and 40 access groups.
Integrates the any burglar alarm system so that you can control and manage the alarm status from the proxy readers. Can be configured up to 6 alarm areas.
The VAKA-system and the Web-client operates with any computer operating system.
Compatible with future VAKA versions.
Brochures Films Document